Immortal Diaries. EVENT Divine Temptation: Valkyries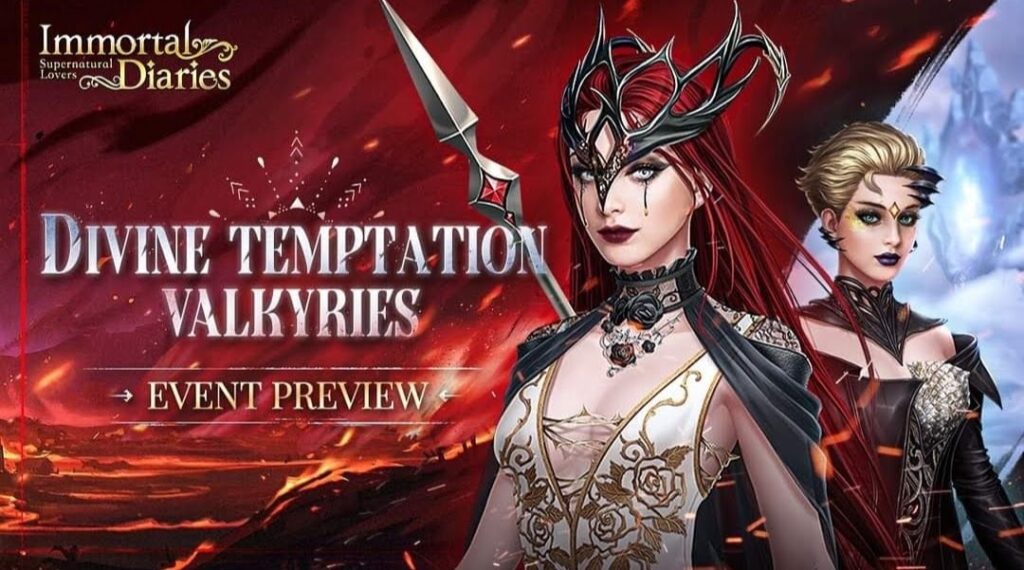 Have you seen new Sets?! O M G! *screams 😀
Here they are, top to bottom view. Make ups and sceneries! Oh-Oh, let's get them! Pfp and new frames are also available. That's how our rewards for participating in events should look like! *sounds of diamonds
Tags.. tags.. What about them?
They range from medium to high value. No doubts, the black set (Valkyrie Tempest) has better Tags. I love their variety.
What Items are worth to get? Black dress, head patch (Valkyrie Statement) and golden Apple. Almost all other items are nice to have if you can afford them.
Valhalla Guide set looks stunning but tags are slightly off. Red Hair is definitely a treasure, top (Valhalla Warrior) and horn crown (Valhalla Edge) is a way to go too. Make up, spare, necklace and airy cape would be a perfect add-on.
What helps to save diamonds?
Short on time for the game? Log in twice a day and claim your free apples, 12 for each set per 1 claim.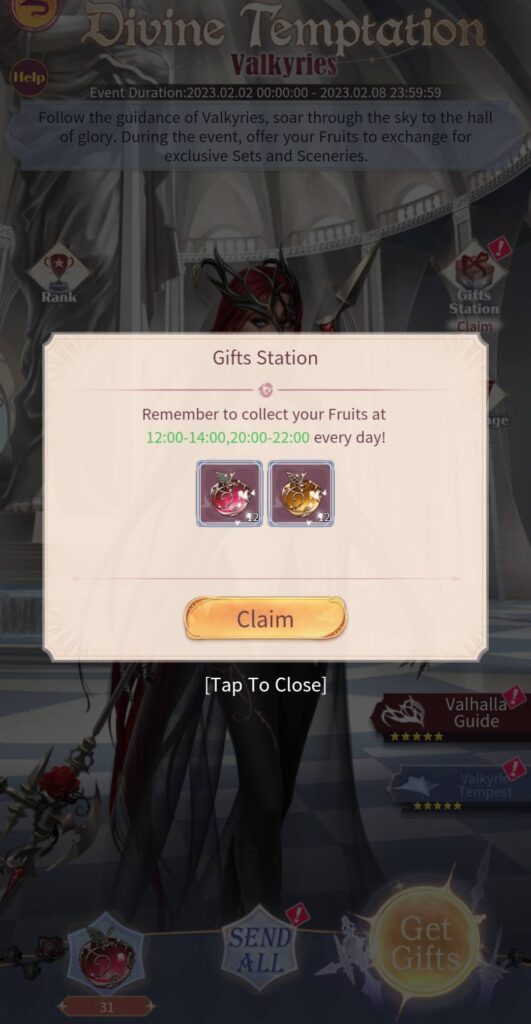 Willing to spend more in game time? Complete 10 Tasks. Most of them you will make it done simply by playing game (10 times date, 4 debates, 5 dispatches, travel 30 cities, feed your dog 200, 30 intimacy, 1 Build, 15 train followers). The tricky ones could be: Use 2 golden tickets and Spend 200 diamonds. Everything else is achievable if you play game. Tasks refresh every day, so you have to have stock for 7 days ready.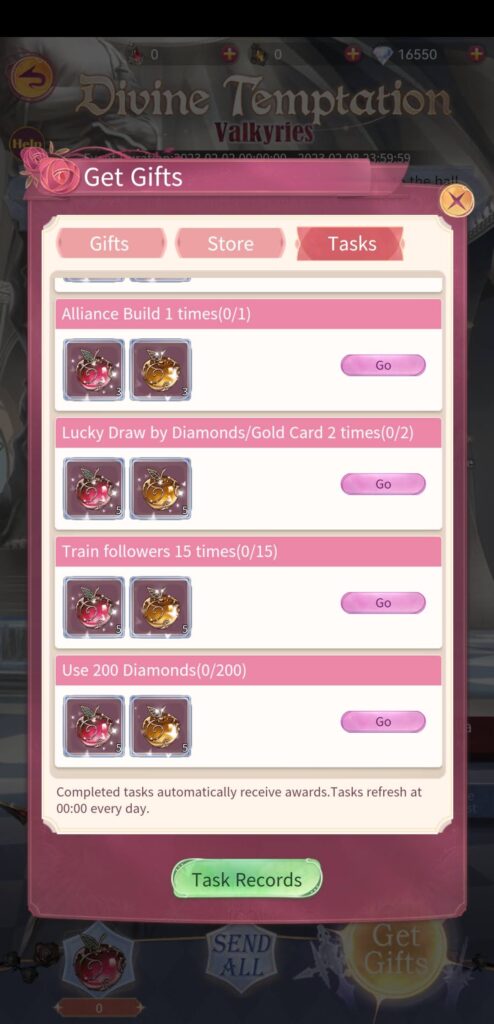 If you claim all free apples and complete all Tasks without diamonds or money spending, you get 3990 event points for free. You use them to buy Sets or other items like scenery, pfp, frame and smaller ones.
2 Sets
If you are interested to get both Sets, the cheapest way to do that is to:
claim everything what is given free,
complete tasks
and spend money OR diamonds to cover the cost.
Do Set exchange on the last event day.
The best diamond deal when you aim for 2 Sets is offer for 120 diamonds. Each day claim all of those. They will give you 1000 points for each set a day (7000 in 7 days for 4200 diamonds; 8400 diamonds in total).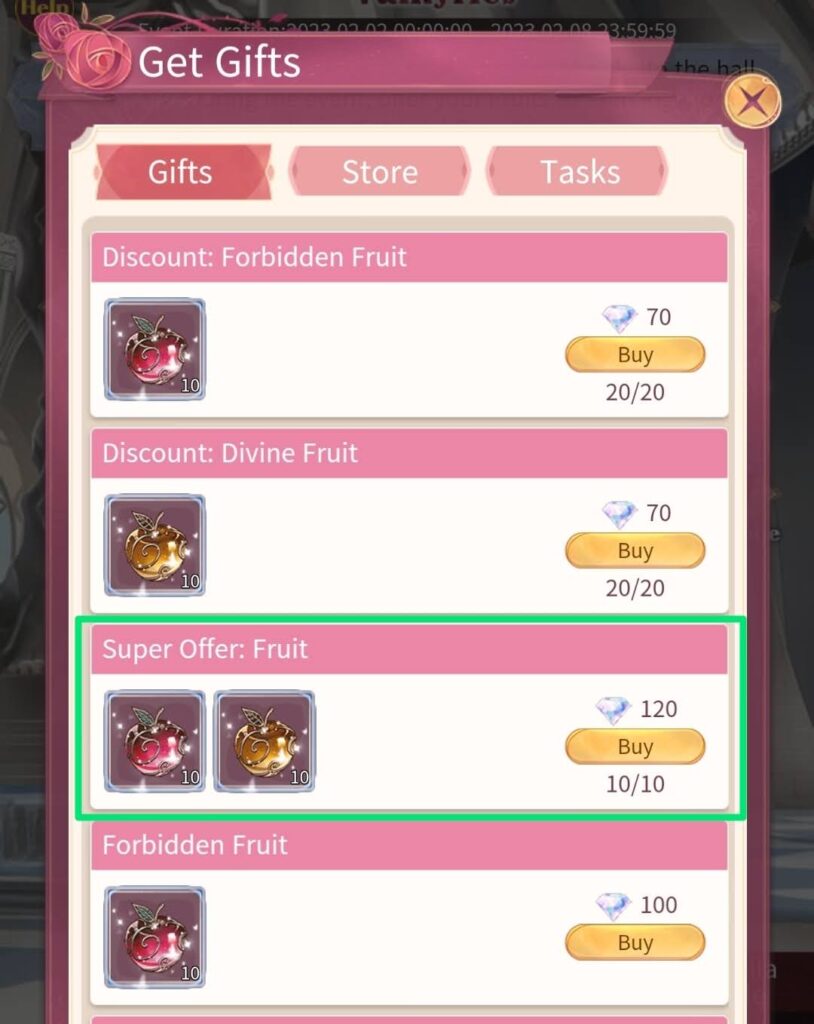 The rest shortage of event points you will cover in 3 days of your choice. Buy apples of both colours. Use Limited offer for 70 diamonds:
1st and 2nd day: 10 apples x 20 times = 200 apples = 2000 event points (spendings: 1.400 diamonds for 1 Set)
3rd day: 10 apples x 13 times = 130 apples = 1300 event points (spendings: 910 diamonds for 1 set).
Total for 2 Sets: free claims twice a day every event day + all tasks every day + 15.820 diamonds.
1 Set
When you aim only for one Set, ditch the 120 diamond offer and use 70 diamond offer instead. Make sure you buy apples of the right colour: red apples are for Valhalla Guide set (red haired) and golden apples are for Valkyrie Tempest (black dress).
Free claimed apples will give you 12×2=24 x10= 240 event points a day.
Completed tasks bring you 33×10= 330 event points /1 day.
In 7 days that makes 3990 event points.
1-6 day: all 6 days use limited offer for 70 diamonds, buy only your colour apples: 10 apples x 20 times= 200 apples = 2000 event points x 6 days= 12.000 event points (1.400 diamonds x 6 days = 8.400 diamonds)
day 7: same 70 diamond offer: 10 apples x 3 times = 30 apples = 300 event points (210 diamonds).
Your total spendings for 1 Set: free claims twice a day every event day + all tasks every day + 8.610 diamonds.
Some dollar spending will give you a tiny boost: 1 dollar = 40 apples= 400 event points. In 7 days you may get 2.800 event points for 7 dollars in total. 1 Set requires 16.200 event points (16.200- free stuff 3.990 – 7 dollar points 2.800 = 9.410 shortage of event points). To cover this shortage you will need 5 days of diamond spending to get best price for the set.
This dollar offer may help you to collect enough points for extra items in event exchange shop.
Good luck, my beauties! Join me to conquer Valhalla and Valkyrie 😀
Danielle -2 Feb, 2023-
Read more: I wish I knew before starting Immortal Diaries, game tips and tricks, Strategies, Dress up/ clothing guide