Immortal Diaries. EVENT: About time Twilight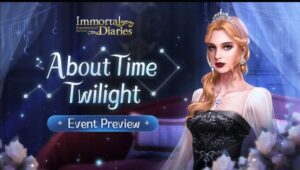 It seems like a such long time we haven't got Event like this! Let's have a look what it has for us in store. Spoiler alert: this event brings along a few pleasant surprises! 😉
O-M-G one more 5 star new outfit "Twilight chant"! I must admit, I'm enchanted by its style and beauty in classic figure hugging black and white! Transparent balloon sleeves are back in style. Tiara is fitting for any princess look-a-like and what a hair colour!
This outfit has a nice travel bonus (18%) and 4 Items with special tags (Formal, Lady, Purple, Royal). Overall tags and Items aren't very special, most of them have medium value.
2. We also are given a choice to pick any side Items "Theme Parts" that aren't included into new outfit Set (click "Exchange" to see them): 5 outfit Items (2 of them with special tags), gorgeous background and a few smaller gifts. Keep an eye on those bracelets. They bring value 😉
3. Let's not to forget about Ranking rewards. They are generous! (check them in "Rank") Those green Follower awakening sets.. we never have enough 😀 *cries
How to get and what's the price?
Two most important questions along with one more: Is it worth to invest?
Let's start with the first one. How to get? Every event has it's own currency. This time we have to collect:
Farer's Spring (purple one in a bottle). It's used to exchange to the Set and side Items.
Farer's Water (pink one) helps you to be ranked in this event. Remember? Ranking grants you rewards!
If you decide to participate in this event, you have to collect certain amount of Farer's Water and Farer's Spring. They both come in combo from 4 Items in "Store": Time buds (green leaves), Time leaves (purple flower), Time fungus (purple fungus) and Time fruits (red berries).
We can get some of them free, some of them using coins or/and diamonds, and buying Top up (this time it is placed directly in event Store, so we don't have to go to "Daily special" offer). NEW- we can top up any amount, that's said, 0.99 dollars also counts! Yayy! NEW- game wants us to keep in game daily and to slow down (top up is valid only once/day 😉 so keep that in mind and don't leave everything for the last day).
Here comes one more surprise we hadn't earlier in this type of event: You can't get only one Item or a few from this new outfit Set. The only way to get them is to buy the whole Set at a price of 12.500 Farer's Spring (purple one). If you don't like the whole set, it's a boomer.. But I hope you are joyfully jumping at a possibility to get it 😀
Another surprise is much more pleasant! We have 9 days to collect required Farer's Spring (instead of 7 days we always had), hip hip Yayyy! 😀
And the sweetest surprise I left for you the last: outfit Set price sinking down!
How to spend less?
As always, it's the best way to start collecting everything on the first event day and do it daily as long as event lasts. I know it's hard to refuse to rush in and to catch up with big spenders, but that's the only way to spend less: Have patience and collect daily. Guidance how to get outfit Set and to spend least:
collect daily free items (green leaves, purple flowers, fungus) = you will have 945 Farer's Springs on the last event day 9
use coins to collect daily all 20 green leaves "Time buds" (4.500 Farer's Springs; it will cost you 200k coins/day = 1.8 M coins in 9 days). Amount is large but they are free to get! 🙂
exchange diamonds daily to 20 purple flowers "Time leaves" (6.300 Farer's Springs; you will spend 500 diamonds/day = 4.500 diamonds in 9 days)
on the last event day buy 17 "Time fungus" (850 diamonds)
That's it! You will have enough to get the whole new Set! You get free (game coins included) 43,5% of required event currency this time but still have to spend diamonds (or real money). Your spendings will total: free Items daily+ 1.800.000 coins+ 5350 diamonds.
Btw, if you top up for 3 days (~1 dollar/day), you could get this dark gorgeous Background 😉 As alternative, you can use 2.000 diamonds to buy it but to be honest, it sounds a bit too harsh.. so it's better to stick with couple of dollars.
Finally we are blessed with something really beautiful, useful and close to more affordable <3 See you dressed in new outfit in 9 days, ladies! 😀
Danielle -2 July, 2022-
Read more: I wish I knew before starting Immortal Diaries; scroll down in "I wish I knew page" for Tips and Tricks, Guides and Strategies