Immortal Diaries. Previous: Puzzled Rewards
Puzzled Rewards is the fifth type of Events on Immortal Diaries game. It was introduced for the FIRST time 4 months after the game was released.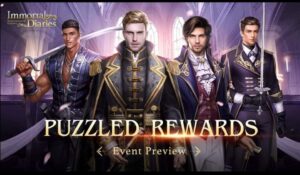 From that time the Event itself haven't changed and it is loved and welcomed among Immortal Diaries community. It lasts 7 days and comes with a MEN power. Puzzled Rewards always introduces 4 Outfits, one for each Mr. Right.
New outfits are good looking and nice to have but also they increase your Influence a lot. Check numbers next to every attribute! They are way bigger than the ones next to the standard Mr. Right outfits you can normally get anytime in game.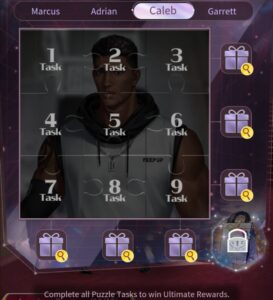 In order to win these Outfit(s), you have to complete all the tasks written on the puzzle pieces. 9 Tasks from each of Mr. Right. Let's say, you want Outfit for Celeb, you do all 9 his tasks and outfit is yours.
Tasks stay the same in every Puzzled Rewards game.
There are simple Tasks, easy to complete by doing your daily Tasks, such as claim Coins in Resources, consume Potion, use Energy, Affairs, Gifts, Intimacy, Travel, Dispatch, Train, Playmate.
Next to them are a bit harder ones: more successful Debates, more Dates, higher Morale in Interrogation, use Fertiliser, Gold Cards, sending Flowers.
Some Tasks require to use extra Items, such as Love Balloons and Reset Watches.
Other Tasks keep you coming daily to the game: Greet, Flatter, daily Tasks.
Are there diamonds involved in this Event? Yes, definitely yes, but amount is way lower in comparison with other events: spend 2k diamonds, Build in Alliance, buy Discount Packs.
Additional prizes are also included in this Event. They are hidden in gift boxes next to each row of puzzles. Compete tasks in any row vertically or horizontally and you are good to claim them (tap on pic to enlarge it).
Each Mr. Right gives you for completing his Tasks:
1 Scroll,
1 green Awakening set,
1 Shopping Item,
1 Affair attempt,
6 Pills of corresponding colour.
Full list of Puzzle Tasks:
MARCUS:
buy 2 Discount Packages
1 Playmate
450 Satiety
plant 70 flowers
use 15 Scrolls
120 Study
use 20M Potions
30 Flatters
3 Reset Watches
ADRIAN:
80 Dates
Contest Store: 20 refreshes
30 Gifts
3.5M damage to alliance Bosses
210 Intimacy
360 Travels
90 Train Followers
daily tasks activity 400
spend 2k diamonds
CELEB:
use 20 Gold cards
120 Affairs
24 Dispatches
20 Debates
use 10 Fertilizers
120 Work
spend 20M Coins
300 Interrogates
20 Shoppings
GARRETT:
5 alliance Builds
100 Flirts
use 8 Love balloons
increase by 50 Debate score
use 90 Silver cards
120 Energy replenish
spend 20M Energy
5 Greets
send 240 Flowers
Second Puzzled Rewards Event "Bonded Fantasies" launched 4 months after first one and brought Guardians Costumes:
Third time it showed up again after 4 months with Sport Outfits included into Event under name "Fated Match":
Hope, you enjoyed this short look-back at this masculine Event.
Danielle -3 June, 2022-