Immortal Diaries. EVENT Scented Dreams: Uncovered
I love Immortal Diaries Events! We are the lucky ones because they show up often, last for one week and at the end of it we may end up with full new 5 star Outfit set. Excitedly looks at new arrival <3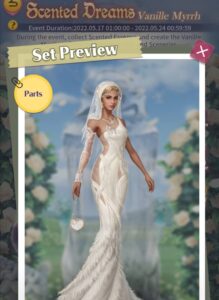 This one is gorgeous, soft, gentle, noble, feminine <3. It has bride or elf look's vibe as my friend said. And expensive if you play with economic budget.
Where to spend and where to save?
This event requires a lot of DIAMONDS but ~23% Essence (event currency) you can get free by doing Event tasks. So, where to spend and where to save if you decided to get the whole set? I recommend:
don't skip daily Tasks. Do dailies, not necessarily all of them, only enough to reach the fifth daily Task Chest (You will collect free 320 Essences/daily!)
5 Faceoff attempts/day (in Club) are free. Buy 5 more/day, they are worth it! (75 diamonds/daily instead of 250 diamonds/daily when you spend diamonds to purchase Essence in Scented Boutique)
do NOT buy Lipsticks and leave the last task unfinished (yes, unfinished, you read it correctly). You can manage to do 12 free Dates/day. If you can do only 8 of them daily, it's also OK. Lipsticks cost 200 diamonds/day. Instead spending 1400 diamonds for lipsticks, purchase missing Essence on the last day of Event in Scented Boutique:

you will spend 600 diamonds to buy Essence if you do 12 Dates/daily OR
1150 diamonds for Essence in Boutique if you do 8 Dates/daily
spend coins to get Essence. Daily. Coins are easy to get and free while diamonds are expensive and/or hard to get
spend the minimum required amount of real money and become VIP. Buy Essence using coins with VIP discount
If you decided to get the whole set, buy Essence for diamonds with discount daily starting from the first Event day (Believe me, you will need ALL of them. And more. So start spending less today)
The whole set requires a bit over 19k Essence. While 1 Essence is equal to 1 diamond, Set price comes around 300 dollars if you decide to skip all tasks and to buy Essence exclusively for diamonds.
Special "Vanille Myrrh" Items
Honestly, I don't recall such expensive set (excluding ones from events in Carousel style) on this game. Let's have a closer look.
This set comes in 10 pieces as most Event sets
it gives 19% Travel bonus (also not different from what we usually have)
Attributes bonus is equal to other sets the same range (10.5k)
as common, more desirable pieces of Set have less valuable Style tags
What makes this set so special?
5 Items have special Tag (Date, Formal, White or Yellow) what might help you to pass Dates with better score
Dress and Make up come as bonus for getting all other Items from the set
there is no way to get only dress
Is the Dress exclusive?
In some way, yes:
because you can get it only during this Event
it has unique Style tag combination (sexy + winter), the only one so far in this game
Is it valuable?
There is a bunch of high star outfits that will accumulate higher and very similar score in Dates, Faceoff and Fashion Show if you need only Sexy Style tag.
However Winter Style tag is one of those rare ones but we have 4 outfits at similar value in game holding it.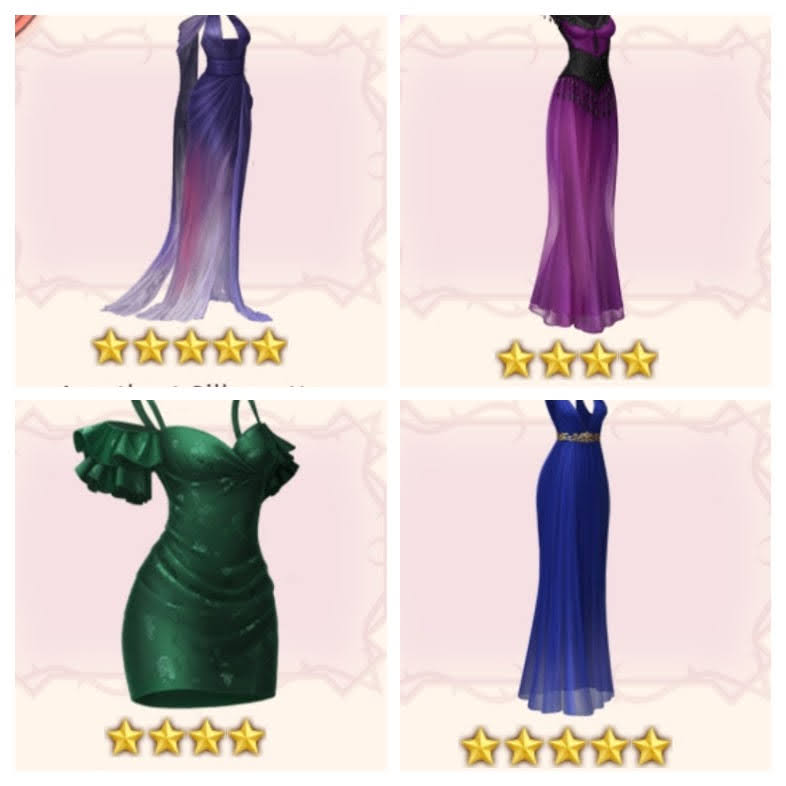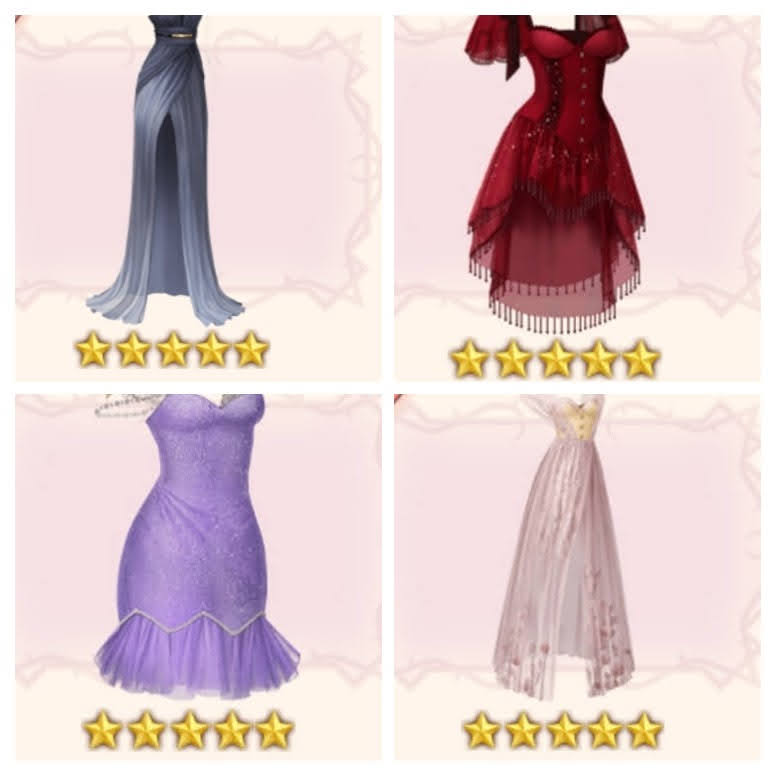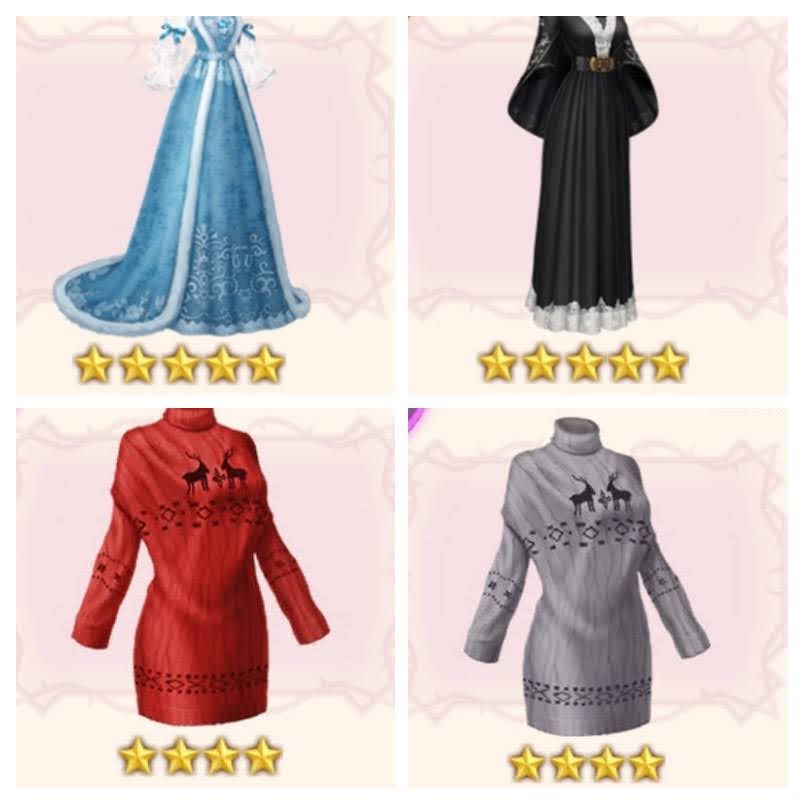 Any "Must have" Items?
All, all, all of them! 😀
Thats not quite true. In my opinion there are two items worth attention:
tiny delicate heart shaped handbag <3. There is only one Item in game better than this one which holds strong Office Style tag
stylish evening shoes wrapped in silk ribbon and decorated in diamond hearts
With soon coming Birthday Event my economic budget isn't ready to accommodate this lavish whole set so I decided to aim only for 2 Perfume bottles and to get 2 extra Items (make up included). What will be your choice? 🙂
Danielle -17 May, 2022-