Immortal Diaries: Ability Contest, Strategy
Oh, crap! Unfortunately yes, those were my first words this morning. I opened Immortal Diaries and understood I'm not ready for this competition which just started. I want to win! Look at those shining prizes!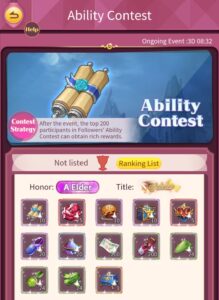 Yeah, you want them too! Right? 🙂 Let's check how many Scrolls you have?
Go to your Bag (bottom on your screen) and check your Scroll stock. That's what you need. Even colour this time doesn't matter. It's all about quantity.
You may want to be sure you Synthesised Scroll scraps (4 Scroll scraps transform into 1 Mystery Scroll).
Open blue box in your Bag if you have any. Some Scrolls may be hidden in there.
Now you wonder, How did they appear in your Bag? How did you get them?
If you do all (or most) daily tasks, most likely you will get 1 Scroll scrap from the 4th treasure box and 1-2 may be hidden in the last box.
Achievements:

From accumulative Daily login. You can check it in Task→ACHV→Total login
By owning more Followers: Task→ACHV→Number of Followers

By winning Contests
By levelling up Mr. Right's skills: Mr.Right→Skills→Progress
Limited time Rewards for spending Scrolls, Coins, increasing your Influence and login during Contest days
Hmm.. not enough.. Where to get more?
Spend diamonds and buy in the Store→Item Store. However, quantity is limited
Spend real money and grow your VIP level: Task→ACHV→VIP lv.
As an Extra Gift by reaching VIP levels.
In the Bounty Plan exchange shop (last time I checked, it was limited to 10).
Buy Top ups in Rose Bank.
Expensive.. Agree. But if you decide to spend 5 dollars to increase your chances in this contest, you may want to know this: The best investment would be to spend them in Rose Bank, all in 1 day but by buying 5 Top ups for 0.99 dollars.
Strategy
I admit, I'm VIP3, play with economic budget and I have never ever won this contest (or seen anyone with lower VIP winning either). If you check Rank in Contest, most likely top tier spots will be nested by high VIP players. Disappointing? Yes. The truth is so, that wins the most real money spending person. So why to bother and enter this Contest at all if you don't have sack(s) of real money?
First, stay in Top 200, you get free Items. Good Items. Useful. And thats easy achievable!
Second and most important: Top 50 gets Followers Heart. It's the in game currency to buy Advanced Followers. Contests like this is the only way to collect them.
So, your target is to stay in Top 50. You say, you can climb higher? It's even better! Congrats!
Tips. Yayyy, we lovin' tips!
save as much Scrolls as you can while waiting for this Contest
sometimes it's advisable even to skip daily task asking you to lv up Followers Ability. It's up to you
try to spend minimum Scrolls (1-2) on daily basis if there is no Ability Contest
don't spend all your Scrolls on first Ability Contest day (most people do. Ha! Good for us!). Spend them moderate, a few Scrolls a day. Your competitors can see your Rank straight away and will try to overcome you to get your place. Everyone loves free prizes! Revealing what you have too soon, will give them more time (usually 3-4 days) to think of the ways to get more Scrolls
don't save all your scrolls for the last Contest day. Remember, more Scrolls you spend, more Scrolls you get during this time. If you need more time to decide which Follower will get them, don't wait till the last minute. Plus, you move forward a little step in Queens Path by doing daily Ability task. If you saved Scrolls before Contest, now is the time to spend them and get 3-4 daily rewards instead of one 🙂
if you decide to spend diamonds to get Scrolls, you can do it daily even before Contest because daily claim is very limited. I don't suggest spending them here at all but you are free to choose
if you decide to spend money and get more scrolls in Rose Bank, do it on the last day (better, before Contest end) and only after checking your Rank. Make sure, it will make you any proper difference. To climb to place 22 instead of 41 you already are, doesn't sound like a good investment because it won't change your prize
You got your armor and are ready for the battle. See you in Ability Contest Rank list (if you play on my server)! GL!
Danielle -2 May, 2022-